The Frameless Advantage
Frameless cabinets combine modern, full-overlay, flush-fitting doors and drawers with unobstructed, full-access interiors that provide more storage and an organized space while providing superior strength, function, and style to meet any budget.
Exclusively at Lowe's, find a location near you!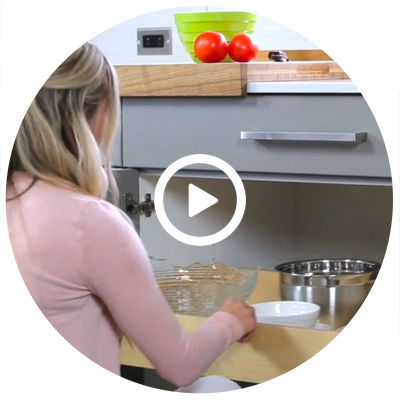 Face-Frame vs Frameless Cabinets
Face-Frame Cabinet Construction (Framed):
1.5 - 2-in hardwood face-frame, attached to front of cabinet box creates narrower cabinet openings, obstructed access, less storage space, and an interior cabinet "lip" that snags items.
Face-frame reduces drawer height, width, and capacity.
Face-frame overhang creates gaps between adjacent cabinets.
Frameless Cabinet Construction (Full-Access / Euro-Design):
5/8-in box construction with solid full-top provides superior strength, structural precision, and countertop support.
Full-access interiors with greater accessibility, unobstructed by a frame.
More usable space in same box size.
Wider, taller drawers with more capacity and clearance.
Adjacent cabinets install flush without gaps.
Modern, clean look of full-overlay, flush-fitting doors and drawers.
Exposed box edges covered with edge banding.